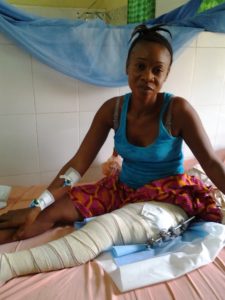 On February  2, 2017, out of six passengers traveling together in a taxi in Sierra Leone,
Adamsay Tholley was the sole survivor of a head-on collision.

 
Exactly one year later Adamsay is able to smile again just two days after surgery by the German-based organization,  Ortpaedie-Fuer-die-Dritte-Welte (O-D-W) to realign and clean her fractured and infected left femur.  In two weeks she will have a second surgery to set the bone with an implanted plate.  Both operations have been arranged and  funded by Africa Surgery at no cost to Adamsay.
After she recovers, Adamsay will be ready to resume her studies and take her final exams at the 

 

nursing school where she had been studying.  Since Sierra Leone has a great shortage of all medical professionals and a great need for trained nurses, Adamsay will be a valuable asset 

 

to her people.